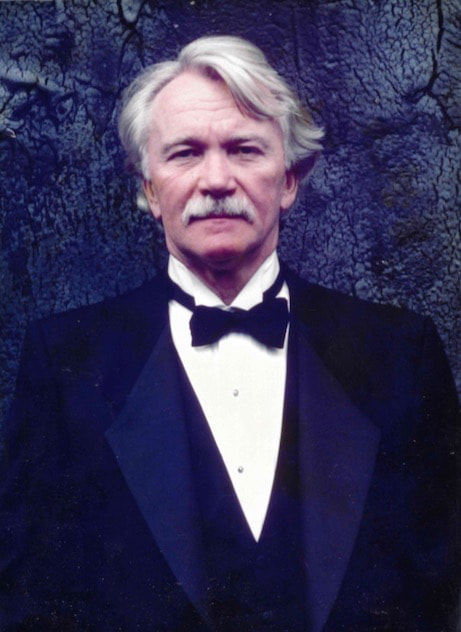 KARL SPRINGER
Collectable Vintage Classic Mid-Century Furniture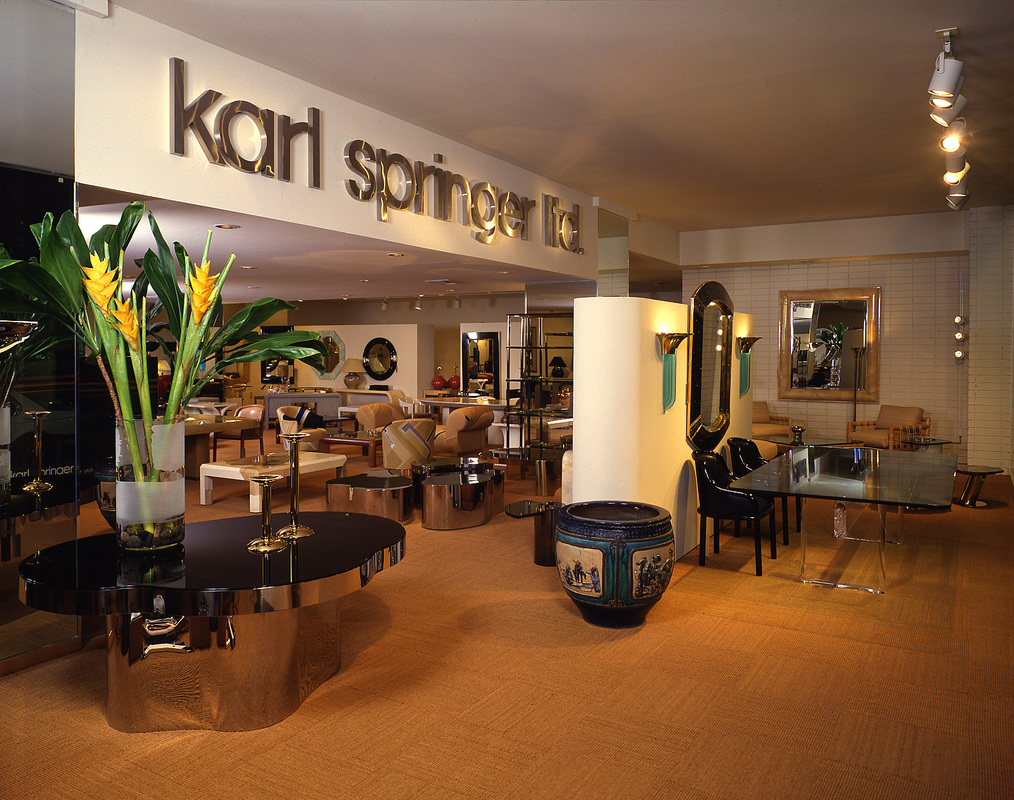 LOS ANGELES SHOWROOM June 1982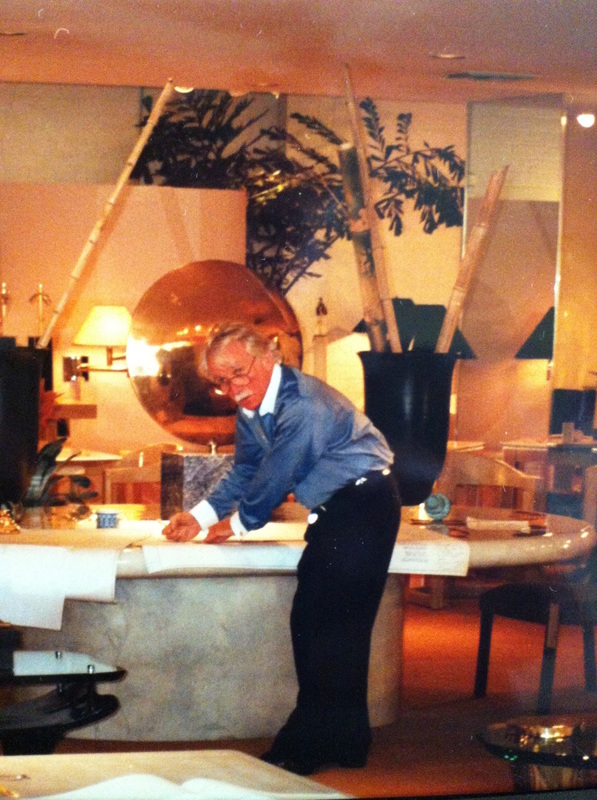 Karl showing me several drawing to review for new items before putting them into work
KARL SPRINGER FURNITURE AUTHENTICATED || Catalog available

Vintage Authentic Karl Springer Designs are Valuable - Karl was involved in the design and manufacture
of each piece. New signed furniture - 25 years after Karl Springer's passing has nothing to do with Karl!

Collectors of Karl Springer furniture include the Duke & Duchess of Windsor, Frank Sinatra, Suzanne Pleshette,
Doris Duke. Jackie & Aristotle Onassis, Joni Mitchell, various Wildensteins, Luther Vandross, Andy Williams,
Geoffrey Beene, Robin Roberts, and Gunter Sachs, along with many others. Some are rich and famous,
while other collectors are simply rich.

Do not purchase or sell a fake.......
I am surprised at the number of images of furniture shown as designed and manufactured by Karl Springer on all
of the vintage furniture sites that are not actual pieces designed and manufactured by Karl Springer.
Karl Springer is one of the most copied designers, with many items shown on various sites that are not authentic...

I have provided written authentication for major auction houses, private parties, dealers of high end
furnishings and Karl Springer collectors. I have also provided appraisals with authentications
for insurance purposes, divorce and estates.

Authentication - My review of each item is $60. (note - a set or pair of items is considered as one item)
The charge is for my time and expertise in order to ascertain whether the item is an authentic Karl Springer piece
or not. Please note, I do not open photos and review them until after I have received payment.

Available for purchase is a 183 page color copy of the Karl Springer catalog which is described below.

The Karl Springer catalog consists of 183 pages, with approximately 200 different items shown.
The catalog was put together before the digital age, so for this reason, when the catalog was started
by Karl, the photographer and assistants would have to first set up an area in the showroom with a seamless
background, along with lighting and camera set up, followed by developing and printing. Several additions
were made in this manner, but became impractical when the warehousing moved from Manhattan to Long
Island City. Other additions were then made by simply taking photos in the warehouse, or in the NYC, Miami
and Los Angeles showrooms. Also included are eight pages from the exclusive store Karl was represented in Tokyo,
with the descriptions in Japanese and the prices listed in Yen. The copies are run on a color copier, including pages
that were developed in gray/sepia tones, as Karl preferred several images in those tones and three-hole punched.

Price - 100lb glossy laser paper - $228 (sorry, the cost of printing has gone up) plus shipping and handling
in the Continental U.S.A., by FedEx express saver @ $38

Review for Authentication and catalog copies are to be paid through PayPal

Tom Langevin ~ I have Unique Knowledge & Expertise of standard, modified, custom and
"One-Of-A-Kind" pieces.

Karl Springer was my mentor and dear friend.

I worked for Karl from February of 1977 until his passing in December of 1991, necessitating my working between NYC
and Los Angeles through mid 1993. Since then I have been occupied in Los Angeles, Palm Springs and Santa Barbara
with interior design projects, including architectural re-design projects, along with designing furniture for a custom line.

With Karl, I worked with Interior Designers and Architects ~
Karl taught me the art of solving workshop problems and guiding artisans ~
As the Manager of design production and quality control I established west coast workshops ~
For the design of the 8900 Melrose Avenue showroom in West Hollywood, Karl, Joachim and I,
with input from John Rotondi, worked together on this project ~
John's brother is the modernist architect, Michael Rotondi. Karl had him design a new front for the showroom,
but this was not built as Karl thought it might be too avant garde for our clients ~
Karl left the design of the Pacific Design Center showroom to me ~
I also re-designed the New York City showroom as Director of Design ~

During my first 5 years with Karl in New York City, I inspected each item before acceptance or it went
back to the workshop to be perfected.

After opening the Los Angeles showroom, I continued to review new designs with Karl in both New York City and Los Angeles.
In New York I worked alongside and under the tutelage of Karl, with every manufacture and workshop for five years,
including those in Paris, Mexico, the Philippines, and Italy. In Los Angeles I expanded workshops on the west
coast that expanded manufacturing for the entire company.

I learned from Karl the importance of quality craftsmanship and how they tied together in pieces
that were combinations of several different materials that included: Metal - Goatskin - Woodworking -
Lacquer - Leather - Upholstery - Glass - Lucite - ETC.

Karl did not collaborate with ANYONE in the design of his furniture. When he had a new piece being worked on at a workshop,
he would have Joachim or me go with him to give a critique. If he thought it valid, he would continue working on the piece.
He also took opinions from anyone who would go to a workshop with him, including the opinion the artisan who was working on
the piece. When Benjamin would drive him, he would also ask his opinion, as Ben has good taste and a good eye.

When a prototype was finished, it was then delivered to the showroom so Karl could study it to see if he wanted to leave it
as is, or continue with his design process. If more design or finish changes were to be made, these completed pieces would be
marked as "One-Of-A-Kind" and sold off of the showroom floor. Only after Karl was completely satisfied with a new design
​would the shop drawings be made.

Contact Information
Email: karl.springerfurniture@yahoo.com

Karl Springer, 60, a Designer Of Classic and Exotic FurnitureBy WOLFGANG SAXON
Published: December 6, 1991Karl Springer, a designer and manufacturer of luxury furniture and a wide array of accessories, died on Wednesday at his home in Manhattan. He was 60 years old.
He died of lymphoma, reported Mateo Lettunich, a former business partner and longtime friend.Mr. Springer worked with many materials -- often exotic ones -- to translate pure, classical shapes into contemporary, custom-made furniture, light fixtures or Venetian-glass objects. He was the president and sole owner of Karl Springer Ltd., with showrooms in New York, Los Angeles and Tokyo and additional outlets in Munich and Chicago.
His signature styles were classical Chinese and Art Deco, the latter inspired by his predecessors Ruhlmann and Jean-Michel Frank. Other influences seen in his creations ranged from the Bauhaus of Germany, his native country, to the Ashanti of Africa. Craftsmen around the world implemented his designs and he traveled widely to oversee the workshops and to scout for new ideas, forms and materials.
Mr. Springer was credited with reviving Shagreen, the rough skin of an Asian shark, which had been popular as a fabric in the 1920's but had fallen out of favor. He brought the use of lacquered parchment back into furniture manufacture as well and also worked with inlaid-wood veneers, rare woods, metals, faux finishes and granite.
Mr. Springer's quest for high quality imbued his work with a sense of scale and proportion. He demanded attention to detail and uncompromising craftsmanship, which won him respect throughout the design industry.
Mr. Springer was born in Berlin and came to New York in 1957, bent upon becoming a bookbinder. Given a job at Lord & Taylor, Mr. Springer put the skills of bookbinding to use to create small, decorative objects covered in fine leathers and skins, developing new methods as he went along. His handmade designs caught the eye of a buyer for Bergdorf Goodman and soon began to attract a discerning clientele.
He managed to establish his first, tiny workshop in the early 1960's and started concentrating on furniture design in 1965. His business flourished after the Duchess of Windsor came across his designs and praised them to her many acquaintances.
"Once I was discovered by the Duchess and her circle, I probably could have gone on making little leather phone tables forever," he told an interviewer two years ago, laughing. "But you need a challenge."


Tulip Wall Sconce, in polished chrome, with quarter globe detail in polished clear lucite.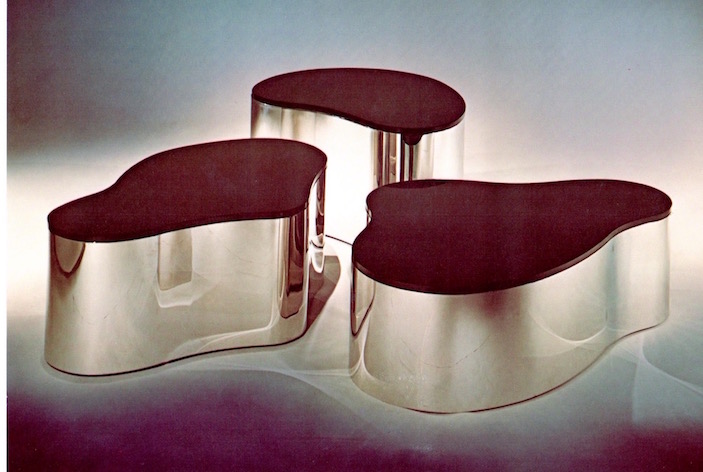 Karl experimented with several ways to add the 3/4" bronze glass tops to read black, this is the end result. The glass reads black and will not slide off of the top.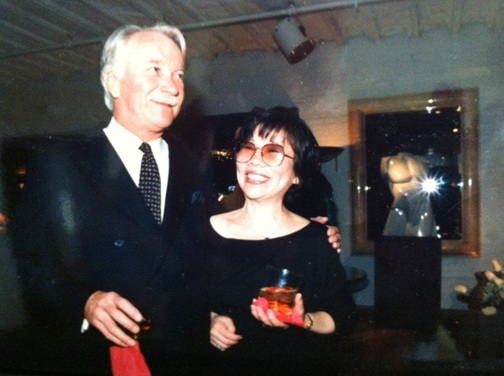 Karl with Takako at a party in the NYC showroom. Takako is an artist who painted fabrics for upholstery, pillows and yardage to apply to tables that were then lacquered over.
---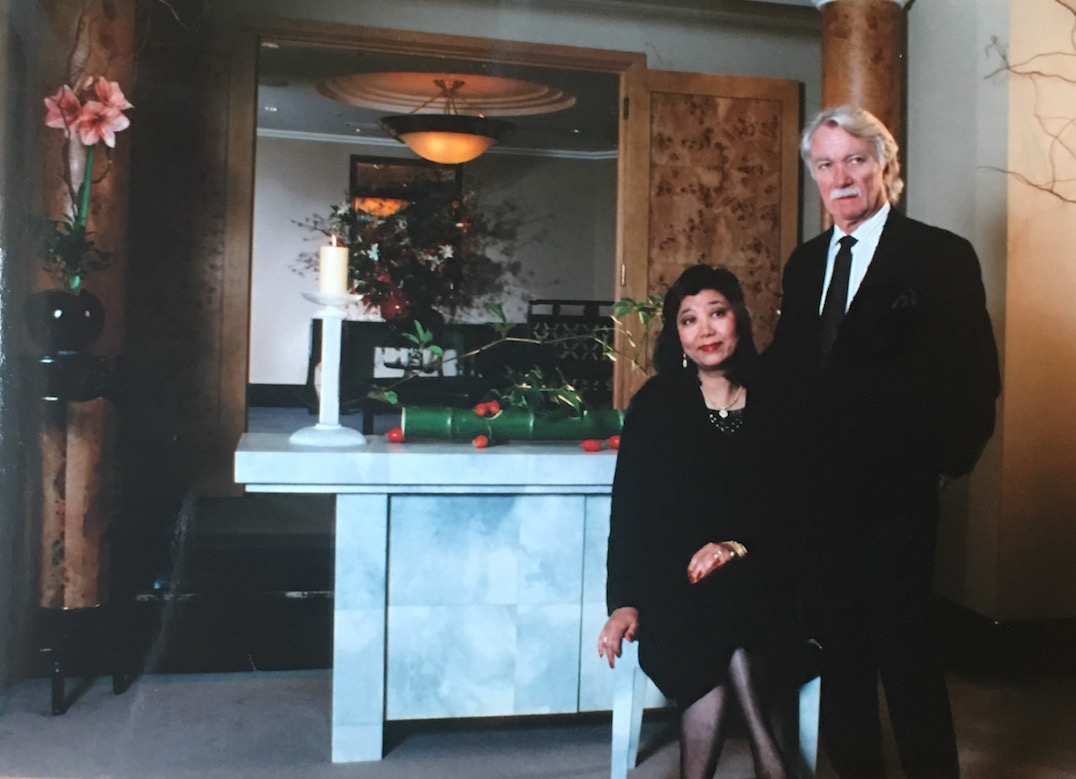 Midori and Karl in Tokyo at the opening of Karl Springer

Karl named the dining table in the background and the coffee table in the foreground for Midori





Sculpture Console, finished in
Silver Granite Lacquer

Bronze Cobra Sculpture by
Roberto Estevez

Saturn Mirror
​

---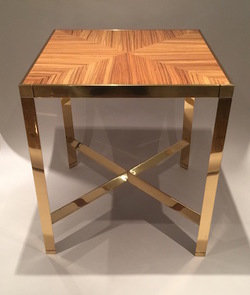 ---



An Art Moderne coffee table, in polished gunmetal with polished brass detail.

---